Prime Minister Narendra Modi landed in the Jewish state of Israel and became the first sitting Prime Minister to visit Israel in 70 years. As he arrived in Tel Aviv on his historic three-day visit to Israel, Prime Minister Benjamin Netanyahu breaking all protocol received PM Modi as he arrived at the Ben Gurion airport. Such special gestures have been earlier extended only for the US President and the Pope.
Prime Minister Benjamin Netanyahu greeted PM Modi with the words "Aapka swagat hai mere dost." in Hindi and described PM Modi as a 'great world leader'. Netanyahu said, "We can do even more, even better together."
PM Modi at the reception ceremony said "It is my singular honour to be the first ever Prime Minister of India to undertake this groundbreaking visit to Israel. This visit celebrates the centuries old links between our societies as well as the establishment of 25 years of diplomatic relations between India and Israel."
Prime Minister Benjamin Netanyahu also expressed his admiration for India's culture, history, democracy and commitment to progress and said the two countries could do even better together. But amidst all this warm greeting Prime Minister Benjamin Netanyahu was spotted showing yet another gesture that will show the depth of India and Israel's friendship.
While he received PM Modi at the airport he wore an impressive broach with the Indian tri-colour and the Israeli flag. The tiny Indian flag was fastened to Prime Minister Benjamin Netanyahu's suit which shows the immense respect and love for India what Israel has. It was overwhelming to see the Israeli Prime Minister wearing our 'Tiranga' broach while welcoming Prime Minister Modi.
PM Modi was also not far from showing his respect towards Israel. Israel's flag has two colours, white and blue. PM Modi, taking a note of that, wore a white suit with a blue handkerchief nicely tucked in the pocket. This is how the two great leaders prepared themselves for the meeting.
This visit which marks 25 years of diplomatic relations between India and Israel was made more momentous after all cabinet members of Netanyahu marked their presence. The Israeli leader said, "This is a very significant step in strengthening relations between the two countries. The formula for success is simple, it's I-squared and T-squared, which equals Indian talent and Israel technology, and equals India-Israel ties for tomorrow".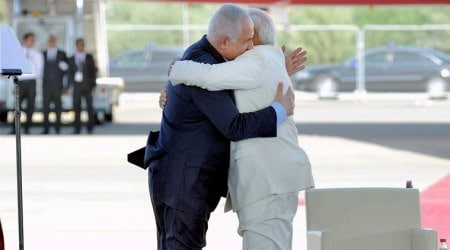 Echoing a similar sentiment, PM Modi said Israel had been a constant companion in India's development story and going forward, the two nations must deepen cooperation in a range of areas to further cement their ties.
PM Modi will be in Israel till July 6 before travelling to Hamburg, Germany, to attend the G-20 summit.