Lalu Prasad Yadav's second eldest son and the deputy chief minister of Bihar Tejashwi Yadav remains very active on social media. Whether it's Facebook or Twitter he keeps his followers updated by posting something or the other.
It is not a hidden fact that Tejashwi Yadav is only a 9th standard passed and at the age of 26 he became the Deputy Chief Minister of Bihar in Nitish Kumar's cabinet.
As he has been an active participant on Twitter he has time and again made blunders that have actually landed him in trouble and has often become the butt of jokes on the social media platform. Wishing his father Lalu Prasad Yadav on his 70th birthday he called him an injustice crusader and people trolled him hilariously then.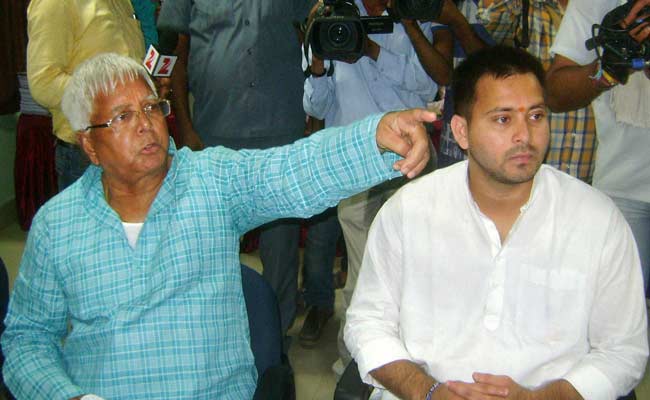 But, this time Tejashwi Yadav posted something on the social media platform that irritated a lot of people when he stood near the River Ganga and posted a picture with the caption that said: "lapped in mother Ganga". Have a look at his tweet.
Just after he tweeted this, Twitterati bombarded with hilarious reactions and indicated the effects of being illiterate. Twitter users strained him on this tweet and made him understand the real meaning of 'aagosh'.
Have a look at the reactions by Twitterati. These will make you LOL!
While Twitter user hilariously trolled Tejashwi Yadav and blamed Lalu Prasad Yadav for not educating his child, this just showed the bright future of Bihar whose Deputy CM does not even know the meaning of his words. Sigh!
As Tejashwi Yadav's father Lalu Prasad Yadav cannot become the Chief Minister after being convicted by Supreme Court in the fodder scam case he has made sure both his sons Tej Pratap Yadav who is 10th pass and has been given the Cabinet Minister for Health in Government of Bihar and Tejashwi Yadav who is 9th pass is the Deputy CM of Bihar have stated their political career.
Reportedly there have been differences and conflicts between Nitish Kumar and Lalu Prasad Yadav as the Lalu attacked Nitish over supporting NDA presidential candidate Ram Nath Kovind over the opposition candidate Meira Kumar. The Mahagathbandan is almost on the verge of ending in Bihar.
The Income Tax department has also attached 12 plots of RJD chief Lalu Yadav's family members including daughter Misa Bharti, her husband Shailesh, sister Ragini and Chanda, Bihar deputy Chief Minister Tejashwi Yadav and former Chief Minister Rabri Devi the I-T dept also slapped charges under Benami Transactions Act against them and served attachment notice under the stringent act for assets worth over Rs 9 crore. This came after the IT department set a probe of Rs 1,000 crore benami land deals and tax evasion case allegedly involving family members of Lalu Prasad.